How to optimize your time at new launch condo show flat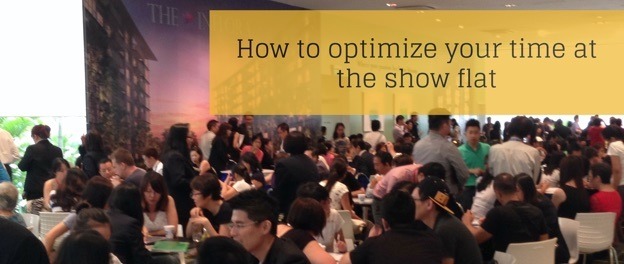 If you have followed our last post on what you must do before visiting a show flat, you should have all the necessary information prepared and ready to go. This means, you have already secured an in-principle approved (IPA) loan from a bank, know your property price range and most importantly, have engaged a very committed property agent to support you. If you have not read it yet, take the time now to find the mistakes people do when visiting a new launch condo and how to avoid them. Come back here once you have read that segment.
In this segment, we will discuss how to optimize your time when you are at a new launch condo show flat.
Choosing a property to buy
Each one of us have a common dream and that common dream is to buy a house, have a roof over our head and build a home for ourselves and our loved ones. Although we dream of having a big house, we are just as thankful for having a decent roof over our heads, as life would allow us to have. Regardless of size, we still need to do our due diligence and know what needs to be done when choosing a property to buy.
Why buy property during initial Launch
Have you questioned yourself why we should buy a property during the initial launch? There are 3 main reasons you should consider.
a) Lower price
As a teaser and an encouragement to persuade you, the developer would entice you with a "carrot", by giving buyers special discounted price if they bought it during the initial launch. Once the initial launch units are sold, the prices for the unsold units will be adjusted back to its normal list price. So, this is one advantage to buy early.
b) Preferred Unit
Being able to choose your preferred unit before anyone else does is definitely a big advantage. For example, if you love mid-floor units, between floors 12 to 18, you will have more choices to choose from and if price is a concern, you will also get to choose one that is the cheapest amongst those units. You get the 2-in-1 package, i.e. better price, preferred unit.
c) Capital gains
As a buyer during the initial launch, you stand a chance to make good capital gains should you sell-off after a few years. Depending on market condition, with good holding power, you can ride through the buyers market and make good money when it is the seller's turn to command the market. This is the first-mover advantage if you buy the property during the initial launch.
Identify location
Location, location, location,… the mantra on the importance of location when selecting a property.
Identify an area, a district that you want your new home to be located. You can use the Singapore Region map, District Code Demarcation map or even the HDB Estate Demarcation map to identify the area you are interested in. For a description of what those maps are, please refer to the related post for more details.
Let's just say your office is in Paya Lebar Central and you want to find a condo nearby your office. It must have easy access to the office via bus or MRT plus it must be in a secluded area with nice cafes and accessible to outdoor activities area such as Singapore Sports Hub and East Coast Park.
One project immediately comes to mind is in Geylang/Aljunied area District 14. Sims Urban Oasis, a new project by Guocoland Ltd is a close match for you.
With all the hard word done earlier before stepping into the show flat, you already know you are able to secure up to 80% loan (e.g.at a maximum of $800k). You also know your budget or price range for your new property is $1mil. Your next challenge is to find out if there are any 2-bedroom condo of about 900sqft available.
With software tools readily available from us, we can quickly zoom in to the project and help you search for property with a price range of up to $1mil with 2-bedroom at 900sqft. When you are prepared, you can immediately focus on the property you can buy and not waste time thinking if you can afford it or not!
View show flat
The next step, we will bring you along to the show flat and conduct an exclusive tour for you and your family. But if you are not keen, we can KIV and proceed to view the next and the next.
During the tour around the show flat, you should keep a look out for the facing and direction of all the apartment towers, the entrance and traffic flow, identify all the facilities provide and its location, and the white goods that comes with the purchase of the condominium unit.
Keep an eye on the actual unit layout minus the interior design and deco. In some show flat design, the developer removed the bedroom walls to create the illusion of bigger space. Hence, you need to keep the "walls" in mind. But of course, it is good to take note of the design in case you like to use it for your own unit next time.
You should also take a look at the surrounding of the project and look for shops, food courts, market, schools, buses, nearest MRT and traveling time between your office and your future new home. If priority is your children's school, do check the neighborhood schools as well.
Finally, if you like the project, the concept, the location and the potential capital gains in future, you can start looking for your preferred tower, the stack and the range of floors you like. Even though the units are not available for sale yet, this exercise will help you in your decision-making during the final phase of selecting your actual unit. More on this process later.
It is a norm that the actual price of the unit is NOT available during this show flat opening period. The prices are only released on the Preview Day. But sometimes, the developer do provide some indication of what the price is expected to be or how much the prices starts from. So, we can only calculate based on those assumptions and estimates at this time.
Before concluding the tour of the show flat, we will once again run through the financial calculations using the price estimates. If you like what you see after the financial calculations are done, we will proceed to prepare an Expression of Interest (EOI) form and all person(s) who want to be owner needs to complete the form with their signature on it.
Also at the same time, you will need to prepare a cheque, payable to the project account and submit together with the EOI. As the price is unknown at this time, the amount will be left blank. The amount, equivalent to 5% of the purchase price, will be filled up when you have successfully purchase your chosen unit on the Preview Day.
Although you have submitted both the cheque and the EOI, the sale is not done yet and you are still free to back away from the purchase of the property without having to pay any penalty. You just need to inform us and we will withdraw your EOI. This is an important point to note.
Congratulations! Up to this point, you have completed about 50% of the tasks. The next step is to wait for the Preview Day.
In our next article, we will talk about the events on the Preview Day and thereafter. Check out what happens next after you paid the booking fee. Get ready to move in.
Do you have any experience to share when you went visiting a new launch condo show flat? What would you advise others to do and NOT to do?