District Code and District Map of Singapore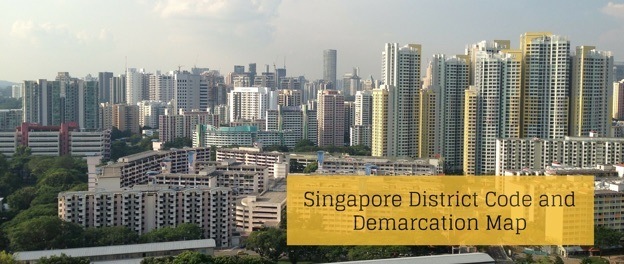 District code and district map is used as a key reference point in many statistical reports in the news and real estate industry.
You would have come across property analysts and commentators talking about properties in District 10 or D10. What is District 10 and where about is District 10?
In this post, we will show you the map and the district code demarcation all across Singapore. How are the district numbers derived? They are based on the first two digits of the postal codes in Singapore.
For example, if the first two digits of your address postal code is 47, then your property falls under District 16. If your postal code starts with 26, then your property is in District 10. Please refer to the table below to determine which district is your property in.
Why is the district number important? Sometimes property prices can vary significantly by just being on a different district number, even though the property is just across the road.
Below is the Singapore map by district.
Singapore District Code Map Demarcation
Singapore District Code Finder
You can use this District Code Finder tool to find the District Code based on the first two digit of the postal code.
For example, if the first two digit of a postal code is 47, the District Code is 16.
Singapore District Code Finder
List of Singapore District Code
Below is a table you can use as a reference. Sometimes your client will ask you what district is a property in and you can refer them this page for reference.
For example, what district is Sims Urban Oasis in? You can refer to the table below for reference.
The first two digits of the postal code for Sims Urban Oasis is 38. Look at the second column for the number 38 and you will find the District Code 14 for Sims Urban Oasis. The project is in District 14.
Postal Sector
(1st 2 digits of postal codes)

Raffles Place, Cecil, Marina, People's Park

Telok Blangah, Harbourfront

Pasir Panjang, Hong Leong Garden, Clementi New Town

High Street, Beach Road (part)

Orchard, Cairnhill, River Valley

Ardmore, Bukit Timah, Holland Road, Tanglin

Watten Estate, Novena, Thomson

Balestier, Toa Payoh, Serangoon

Katong, Joo Chiat, Amber Road

Bedok, Upper East Coast, Eastwood, Kew Drive

Serangoon Garden, Hougang, Punggol

Upper Bukit Timah, Clementi Park, Ulu Pandan

Hillview, Dairy Farm, Bukit Panjang, Choa Chu Kang

Upper Thomson, Springleaf
* Source – Urban Redevelopment Authority (URA) of Singapore
Feel free to bookmark this page for future reference. Share with those who will find this information useful.
About Ming Property
Have you ever wondered how ordinary people who is on a regular income makes money from real estate? Many of us are not fully aware of how to get started and because of that, we missed out on a lot of opportunities. Most of us are in similar situation and believe it or not, it is not as hard as many people think to get started in real estate investment.
All it takes is a bit of planning and taking ACTION now. Don't wait for whatever reasons you may have that's holding you back.
This is where we come in. We spend a lot of time talking and working with regular clients, explaining our strategies and techniques that has been used successfully in buying and selling properties in Singapore.
Our objective is to educate and inform ordinary folks on how to create wealth from one of the most important assets in their life – their property. Our value comes from giving additional insights that are not covered by the regular media. This will help clients see from a different perspective and hence, make better and more informed decisions.
You can read more about Ming Property from our About Us page. Get in touch to find out how we can be of great value to you.