Mistakes people do when visiting a new condo launch event in Singapore and how to avoid it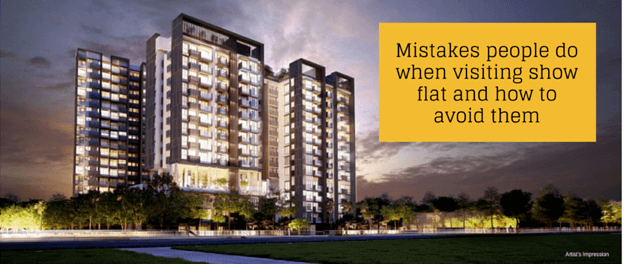 A property is the single biggest ticket item, the most expensive purchase that most of us would be paying for in our entire lifetime. Unless we are a property investor with big, deep pockets, we are likely to be looking for only one beautiful apartment unit that we will build a lovely home together with our family. Therefore, it is very important that we understand the fundamentals of buying a property for our own-stay. We need to carefully evaluate all the options available for us to consider.
Before we even take a step into a show flat, any show flat, it is so important that we are prepared. Many times we wasted our precious time going to a show flat and realised that there's actually a lot of work to be done before we can seriously make an offer to buy a property.
In this post, we will talk about what we need to do BEFORE we step into a show flat and maximise our time during the preview tour. This is part 1 of a 3-part series on buying property from a new condo launch by a developer for under-construction condominium project. You can find more Singapore property for sale from our main website. The 3 parts article are a) Before stepping into a show flat, b) How to find your new home and c) What happens after making your booking fee for your new home.
Before stepping into a show flat
Before you begin the journey of buying your Singapore property, your first task is to put together a financial plan and understand your current cash flow. Then, find a professional and trustworthy agent who is willing to go on this journey with you on a long-haul. Don't work with one who is only interested to make money from this one deal and never to be seen again.
Put your finances together
Firstly, determine what is your total cash-in-hand amount. This could be cash in your savings accounts, your fixed-deposit account, your stocks and shares that you can liquidate easily and cash from your sponsors such as your parents, relatives that is available to you.
Compile a list of your monthly income. Prepare your salary slip and any other income statements.
If you have a Singpass, log-in to your CPF account and check how much money you have available in your Ordinary Account (OA) that can be used for property purchase.
Next, prepare a list of all your fixed monthly expenses such as your car loan, education loan (if any), credit card payment with monthly installment and any other regular monthly expenses. Get a copy of statements for all of the expenses ready.
If you are married, please include your spouse's financial details as above. Or, if you are co-buying with a friend or relative, do include their financial data as well. In short, whomever who wants to have a name in the property, compile all the financial details for easy reference by all involved, especially the financiers.
Contact your financier
Once you have compiled all of the above, contact the mortgage bankers at any of your favorite banks in Singapore. If you dont' have one, we will get you one. Inform them you are looking to buy a property in Singapore and you want an in-principle approval (IPA) for the MAXIMUM amount of mortgage loan you can possibly obtain from the bank.
You will be asked to submit documents to support the above financial data, for example, your income and expenses, to the bank for reference and consideration. Thereafter, you will be given the indicative IPA. With that information, you now have an idea of what budget and price range of property you can consider to buy.
It is important you get this financial approval done first. In our experience, very often our clients saw a property they really liked but unable to proceed because they were unsure if they could get the loan to support the purchase. During good times, when the market is hot, projects move really fast and decisions must be made quick. If you do not know your financial situation, your dream home can disappear right under your nose.
It is perfectly fine to obtain an indicative IPA early from your banker. It does not matter if you did not make a purchase of any property. You are not obligated to make a purchase for receiving the IPA from the bank. This will give you the confidence and comfort when you go shopping for your dream property.
Engage a professional agent
You now have an idea of the budget and price range of property you can consider. The next important step is to engage a professional and trustworthy property agent to help you through the journey. Many people ignore this step and they get into all sorts of predicament that we will not be discussing here today.
A professional agent will assist you in several areas. This is where we make the differences in your journey to buying your property. Firstly, we will work with you to determine your financial situation as mentioned above. We will advise you on the latest government policies, the so-called "cooling measures", and how it may affect you. We will assist to determine the amount of taxes and stamp duties you need to pay. We will try to answer all your questions and concerns whenever we can.
If you are a current owner of a HDB flat, we will cover the HDB rules and what needs to be done in order for you to buy a private property.
Your residential status also plays an important role. Whether you pay more or less depends on your status. Being a Singapore citizen has its privileges. Once we have identified whether you are a citizen (SC), a Singapore Permanent Resident (SPR) or a foreigner, we can advice the amount of stamp duties you need to pay and the type of property you are allowed to buy. This is an important subject matter to we need to cover to ensure there are no surprises as we progress through the sales process.
Sometimes, we also encounter difficult cases where buyers have difficulty in obtaining loan. For such cases, we will work with qualified financial advisers to explore ALL legal options to obtain financing for the purchase of the property.
With your finances assured and a professional agent by your side, you are now ready to shop for your new home.
We have seen too many cases where buyer comes unprepared and suffered lost of opportunity as they could not make a decision to proceed. Do not let that happen to you. Be prepared.
In our next article, we will talk about how to effortlessly buy your property from a show flat. We will guide you through slowly and explain the things to look out for in a show flat. Get ready to start choosing a property to buy.
Do you have an experience you can share when you visited a show flat in the past? Share your experience and discuss what you learn from it.