North Park Residences
North Park Residences, a mixed-development project by Frasers Centrepoint, will be launched soon. An iconic project with a wide range of facilities within and around the condominium, North Park Residences will be a much sought-after private residential property in Singapore.
If one can remember the successful launches of Bedok Residences on the East and The Centris on the West, North Park Residences on the north is expected to follow suit. Do not miss out the chance to enjoy the successes Bedok Residences and The Centris had.
Yishun continues to attract new residents as it is being developed progressively with more new homes, better facilities and resulting in a better living environment. Continue to read further to find out more about the development project and the master plan for Yishun.
Project Information – North Park Residences
NORTH PARK RESIDENCES
Developer
Frasers Centrepoint (North Gem Development Pte Ltd)
General Description
A mixed-development project with 920 residential units in twelve 10-storey blocks and integrated with a town plaza, community club and a fully air-conditioned bus interchange.
The residential mix comes with studio, 1 to 5 bedroom configuration.
Address
Yishun Central 1
District
D27 – Sembawang / Yishun
Carpark Lots
920 car park lots and 7 handicap lots (all on 3rd floor)
Land Size
41,085sqm/442,239sqft (approx)
Tenure of Land
99-years
Date of Legal TOP
est. 2020
Date of Legal Completion
est. 2023
Perspective of North Park Residences Project
Please click on the images above to enlarge it for better viewing.
The main theme of this project is the following three things:
Seamless Connectivity
Desirable Lifestyle Destination
An Iconic Development
An Iconic Development
North Park Residences will have 12-blocks of residential towers with a total of 920 apartment units for potential homeowners to choose. There will be a town plaza with a size of 10 basketball courts and suitable to hold cultural and community events. There will also be a community club within a shopping mall, a first of it kind in Singapore.
North Park Residences is therefore, a new development project designed and built for the enjoyment of all its residents. It is to cater for easy access to transportation, to major expressways such as future North-South Expressway and the new Thomson Line, expected to be completed in 2020. It is for the benefit all residents of Yishun to enjoy the new growth and new lifestyle that the new development brings.
Seamless Connectivity
North Park Residences is part of a mixed-development project of Northpoint City. Northpoint City is being to incorporate a bus interchange, a shopping mall, a community hall and a town plaza. Upon completion, North Park Residences will be part of Northpoint City.
The existing Yishun MRT will have an additional underground link to Northpoint City. Underground retail shops are being planned to enhance the customer shopping experience.
Residents and commuters will finally get to enjoy the comfort of an air-conditioned bus interchange and be able to commute freely to their chosen destination on any public transportation.
Desirable Lifestyle Destination
Upon completion, residents of North Park Residences will get to access and enjoy one of the largest shopping malls in the north of Singapore. It will have over 500 retail outlets and a whole lot of food and beverages outlets to choose from. Residents will be spoilt for choice.
Childcare centres, a community garden at the roof-top, entertainment outlets, cinemas and libraries will be made available. Essentially it will be THE destination for the family.

Please click on the images above to enlarge it for better viewing.

Why North Park Residences
North Park Residences is part of a mixed development project, integrated with the expanded NorthPoint CIty Mall, bus interchange and MRT train network.
Developer is Frasers Centrepoint, a well-established and reputable developer in Singapore.
Easy access to major highways such as SLE, TPE and CTE.
Travelling to Johore Bahru, Malaysia is convenient and nearby.
Highly popular project, similar to sold-out projects like Bedok Residences and The Centris. Very much sought-after. Don't miss this chance anymore.
Location Map – North Park Residences
Site Plan – North Park Residences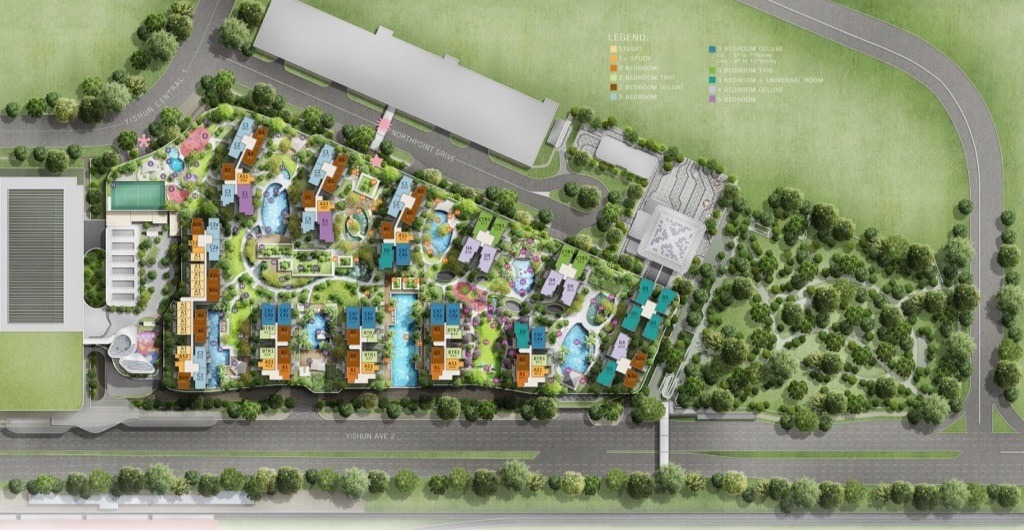 Please click on Register for Site Plan to indicate your interest and we will send an e-Brochure.
Type of Units – North Park Residences
| Unit Type | Strata – sqm | Strata – sqft | No. (units) |
| --- | --- | --- | --- |
| Studio | 40 | 431 | 100 |
| 1 + Study | 51 – 52 | 549 – 560 | 90 |
| 2 Bedroom | 58 | 624 | 40 |
| 2 Bedroom Deluxe | 65 – 70 | 700 – 754 | 240 |
| 2 Bedroom TRIO | 59 | 635 | 70 |
| 3 Bedroom | 77 – 82 | 829 – 883 | 120 |
| 3 Bedroom + Universal Room | 90 – 93 | 969 – 1,001 | 80 |
| 3 Bedroom TRIO | 90 | 969 | 40 |
| 3 Bedroom + Universal Room Deluxe | 102 – 103 | 1,098 – 1,109 | 70 |
| 4 Bedroom Deluxe | 110 – 112 | 1,184 – 1,206 | 50 |
| 5 Bedroom | 133 | 1,432 | 20 |
| | | Total | 920 |
* TRIO units are Dual-Key units. The above are subject to change without prior notice.
Video – North Park Residences
Check out our video on North Park Residences. Gives you an idea how it would be like when the project is ready and you are living on it!
Floor Plans – North Park Residences
* For a bigger view of each floor plan, please click on image .
North Park Residences – Register with Us
Sales Hotline: +65 93834711, SMS: +65 98256808
Please fill in the form below.
By registering with us, you fully agree and consent Tan Hui Ming (CEA #: R010897B), Francis Lim (CEA #: R048716G) and/or any of its Associates to communicate with you on all matters related to property and real estate. The consent given will override any registration on the Do Not Call Registry and shall apply to Singapore telephone numbers registered under your name. You may withdraw your consent at any time by sending us a text message at 98256808 (UN-MingProperty).