Building a Rewarding Career as a Successful Property Agent: Unleashing Opportunities and Personal Growth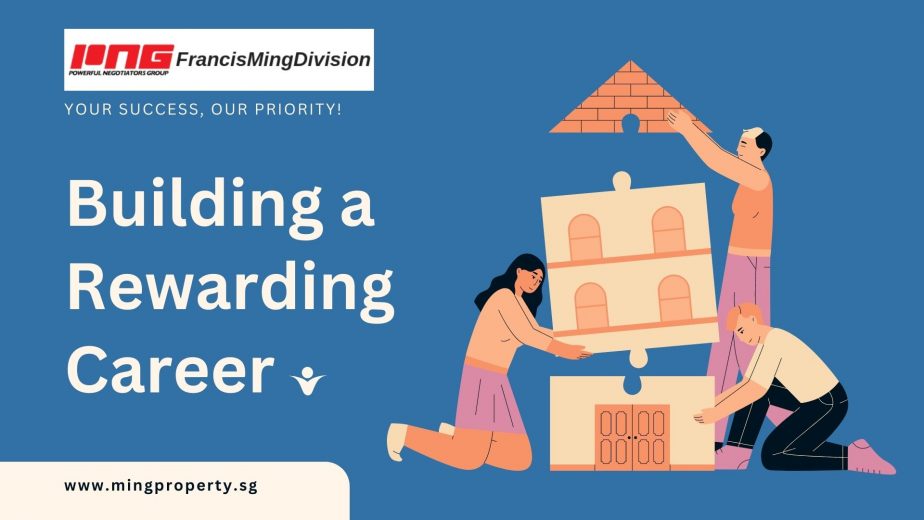 Are you considering a career as a property agent? The real estate industry presents an abundance of potential for personal growth, flexibility, and fulfillment. In our blog post today, we will provide valuable insights into constructing a rewarding career as a property agent, delving into the advantages and opportunities that await aspiring professionals in this dynamic field.
1. Embrace Flexibility and Achieve Work-Life Balance:
As a property agent, you can relish the advantages of a flexible schedule, enabling you to manage your time efficiently. Unlike conventional 9-to-5 jobs, real estate agents possess the freedom to set their own hours and prioritize tasks according to client needs. This flexibility fosters a healthy work-life balance, empowering you to accommodate personal commitments while pursuing a flourishing career.
2. Unlock Lucrative Earning Potential:
One of the most appealing aspects of a real estate career is its potential for substantial earnings. As a property agent, your income is directly linked to your efforts and achievements. By closing successful deals, earning commissions, and building a robust client base, you have the opportunity to unlock significant financial rewards. With dedication and the right strategies, you can pave the way for a prosperous and financially rewarding career.
3. Experience Personal Fulfillment in Assisting Clients:
The real estate industry revolves around people, and as a property agent, you have the privilege of assisting clients in realizing their property goals. Whether you are helping someone find their dream home, guiding an investor towards lucrative opportunities, or facilitating quick property sales, the gratification of making a positive impact on people's lives is truly rewarding. Building lasting relationships with clients adds an invaluable personal connection to your professional journey.
4. Explore Diverse Career Paths:
Real estate offers a myriad of career paths and specializations beyond traditional property sales. As a property agent, you can venture into areas such as property management, real estate development, commercial leasing, or become a real estate consultant. These diverse paths enable you to leverage your skills and interests across various facets of the industry, expanding your opportunities for professional growth, specialization, and fulfillment.
5. Foster Continuous Learning and Professional Development:
Thriving in the real estate industry necessitates embracing continuous learning and professional development. The field is dynamic, with ever-evolving market trends, regulations, and technologies. By staying abreast of industry advancements, investing in training programs, and actively networking with industry professionals, you can enhance your knowledge, skills, and expertise. This positions you as a trusted and knowledgeable property agent, propelling your career forward.
6. Enjoy Varied and Engaging Work:
A career in real estate offers an exciting and engaging work environment. No two days are alike, as each client interaction and property transaction presents unique challenges and opportunities. The diverse nature of the job keeps you motivated, engaged, and constantly learning. Whether you thrive on networking, problem-solving, or creatively marketing properties, the real estate industry provides a stimulating and fulfilling work experience.
Conclusion:
A career as a property agent presents remarkable opportunities for personal growth, flexibility, and fulfillment. With a flexible schedule, lucrative earning potential, and the satisfaction of helping clients achieve their property dreams, real estate offers a gratifying professional journey. Moreover, the industry's diverse career paths, continuous learning culture, and engaging work environment ensure that you can continuously expand your horizons. If you are passionate about real estate, seize the opportunities available and embark on an exciting and rewarding career as a property agent.
If you want to know more about becoming a property agent and to understand what it takes to be a successful property agent, get in touch with me. I will explain and answer any questions you may have without any obligation to join me and my team. You can also find more information on How to become a property Agent in Singapore by click on the link.
Francis Lim is the Associate Group Division Director in PropNex. He has been with PropNex since 2013. An experienced and reliable real estate advisor who brings a wealth of knowledge and experience to help, guide and mentor real estate salesperson.
When he is not busy with real estate, he will be busy tinkering with his espresso coffee machine, churning coffee from a wide range of coffee beans to add fun to coffee tasting. Give him a call to see what he has to serve today.