6 criteria to meet before selecting your property agent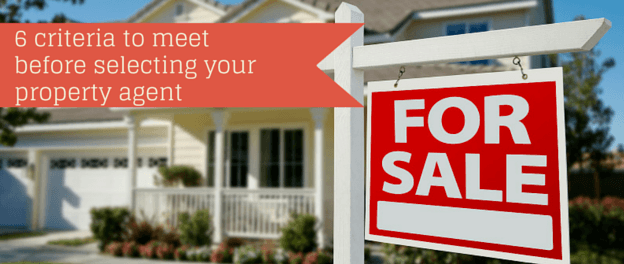 Buying and selling property is no longer an easy task. It gets more complicated as more rules and regulations are implemented by the government and a lot more different client scenario are being asked by buyers and sellers alike. If you messed up during the initial process, the repercussion will be greatly felt towards the end of the process.
It is now more important than ever that you consider engaging a professional property agent to represent you in all matters related to property sales and purchasers. You will never know what you need until your need it but by then it could be too late. And selecting your property agent also not a simple task. Below are some basic criteria that clients should look out for or question the capability of all potential agents before engaging them to be you representative.
Evaluate and pricing your home
When you are selling your house, how much should you set your reserve price of your property? Do you know what is the current valuation of your property and those surrounding the area? How much markup should you include in the selling price when you are marketing your property?
If you are selling your property for the first time, this setting of the base price and selling price could be a daunting task for you. You would need to carry out research on property pricing today, compare to same property type, location, condition of property, and the facing of the property. All those conditions mentioned will dictate the kind of pricing premium that you can call for.
If you priced it too high (every owner wants to sell high), you may not get a lot of calls from interested buyers. If you priced it too low, buyers would think something is wrong with house. Right pricing strategy, requires balance and experience from the seller.
If you are not familiar with the activities that goes into pricing your house, the next best person to do that is your property agent. However, the property agent must be knowledgable to be able to develop a pricing strategy for you.
Financial calculation related to buying a property
In our experience, we have come across many different types of property buyers. We have the first-time buyers, existing home owners looking to invest or upgrade to bigger house, some are looking to downsize their homes and the investors, owners of multiple properties and looking to expand further.
Different buyers have different appetite for risks and they are subjected to different taxes, stamp duties and banking regulation. Depending on the type of buyer category you are today, you need to know your sums and the ability to incorporate the various Singapore government policies and regulation such Inland Revenue Authority of Singapore (IRAS), Monetary Authority of Singapore (MAS) and Ministry of National Development (MND) into the financial calculation to determine your ability to finance your purchase of property.
There are different sets of stamp duties applied to person(s) who are Singapore Citizens, Singapore Permanent Residence and foreigners. The number of properties owned by each person has an impact on the stamp duties payable and the percentage of loan amount that can be obtained.
Many inexperience as well as experienced buyers make mistakes in their financial calculation. The new buyers may not have the complete list of criteria to include into their calculations. The experienced buyers were using the old policies and regulation in their calculation as they may not be aware of the changes or how the new changes affect the way financial calculations are done.
A competent property agent will be able to explain to you the progressive stages of buying a new launch project. He or she is able to explain how much cash can be used, how much CPF can be used and estimate potentially how much mortgage loan you are able to obtain. Of course, only the banker is able to give you the official loan approved amount to you. Estimates are used to help you understand your financial ability to complete the purchase of property.
Do not make the mistake of finding out at the last minute. It could lead you to a big disappointment when you are unable to buy the property you have been eyeing or big monetary lost when you realise you cannot continue with the purchase after putting in your initial deposit.
Verify with your property agent if they have the experience to assist you in the financial calculation to making a purchase of a property.
Extensive network of buyers, investors and sellers
Your property agent plays an important role when you are putting up your property for sale and/or for rent. It is equally important when you are searching for property to buy or invest. And, one important capability the agent must have is the network of buyers, sellers and investors.
In a lot of cases, an agent may not have a direct connections to lots of buyers and sellers. How is the agent going to be connected to as many buyers and sellers as possible?
The answer lies in the network of agents. One key criterion for property agent is to be part of an Estate Agency which has an extensive group of agents with strong connections to lots of buyers and sellers. This way, when you put your property out in the market, your property for sale information is being distribute by a huge network of agents and therefore, your outreach is far greater and wider audience.
Check out the size and total number of property agents in an organisation and find out how the property listing is promoted within the organisation.
Strategies to property investment
Gone are the days where you see the property agents once during the sale and disappeared for good after the sale. A professional, competent property agent today must have the skill and ability to explain to client the various ways a property owner can make good profit margins from their property. The agent today must know how to maximise their investment and how to grow their investment portfolio.
One of the ways home owners can quickly multiply their wealth is the concept of "Sell one, buy Two". This concept is about selling one property and then buy one property to stay, one property to make passive income and still have some cash to keep for rainy day. Your property agent must be able to guide you and teach you how you can maximise and grow your wealth via property investment.
The property agent should be able to explain to you the different scenarios, depending on the situation you are in, how you can make money in property. Even if your situation does not allow today, at least, you get to learn something and start planning for it until you have saved up enough funds to start buying your first property.
Please do not wait until you are in your forties or fifties to start buying your first property. You should target to get your first property, be it a small, studio apartment, by the time you hit 30-years old.
Start early because your cost of using "other people's money" (OPM) is lower and you have a longer tenure. The concept of OPM is interesting and it shall be another topic of discussion for another time. Many people have the notion that we must fully pay our mortgage loan and take as little loan as possible. This is a wrong idea to have if you are going to be a property investor.
Find a knowledgeable and experience agent to guide you and explain to you the different concepts on how property investors make their money. Can you make $200,000 in 2 to 3 years? Would you like to make that kind of money? Talk to the right property agent today.
Knowledge and experience of Govt policies, regulation and process timeline
Buying and selling a HDB flat can be a tedious process. You need to be knowledgeable about the process, buying and selling criteria, the timeline for first-appointment and second-appointment, minimum occupation period (MOP) and so on.
For a more complicated cases such as contra case, divorce case, etc, you will need to know more intricate details of how to manage the sellers and buyers plus looking out for timeline that needs to be complied with.
If you or your property agents are not familiar with the process, it could delay your completion and affect the buyer and/or the sellers timeline on the sale and purchase of their subsequent property purchase/sale.
Ensure your agent has the experience to manage and process the sale and purchase of a HDB Resale unit.
Access to property reports, transaction pricing, URA Master Plan
These days with Information Technology in abundance, home buyers and and sellers are never short of information they can use to make informed decisions on property related activities.
You should engage and request for property reports on any property that you are interested in from your agent. Your agent should have the latest transaction pricing details such as the last price sold, which unit or address, the per square feet or per square meter prices and so on.
In case if you need to know what development plans the government has for that empty piece of land in your neighbourhood, get your agent to check out the latest Master Plan for details before making the decision to invest in a property.
These information are limited many years ago but today, your agents can get you a copy in an instant. Go get one today to know how much the ongoing price for a property around your area today.
Customer care and personalised service
Lastly, your property agent needs to take good care of you as far as service is concern. The agent needs to understand your requirement, give you correct and up todate information and ensure all the things are done correctly. There should not be one service for all. Agents need to treat each client according to their requirement and advise professionally.
In return, the property agent too hopes that client would treat their agents fairly and with respect. Agent's rice bowl is dependent on client as they earned their keep in exchange for their time, resources and energy to serve the client.
MingProperty.Sg
We at Ming Property sincerely supports you for all the 6 criteria mentioned above. Our mission is to provide you with the best customer service experience when it comes to your journey in buying and selling properties. With a good experience, the investment profit made is even sweeter. We have properties in Bedok Reservoir area, and new property launches in Singapore.
Do you have any other criteria for a good property agent that you would consider before you engage them to represent you? Share your buying and selling of property experiences with us. We'd love to hear from you.